SFIFF '08: "Lady Jane"
A Dish Served Cold: Lady Jane (2007, Dir. Robert Guédiguian)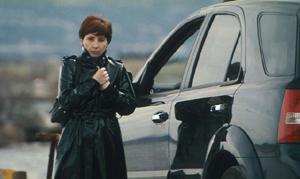 "He who seeks revenge is like the fly that bangs on the window without seeing that the door is open."
-- Armenian proverb
The above serves as the epitaph to
Lady Jane
, and if that doesn't spell it out enough for you, the film closes on the faces of four people, all of them consumed by revenge or disillusioned by it. One man gazes upon his sleeping daughter, a gun in hand and tears rolling down his face; another sits in a car with a bag of jewelry and a fatal bullet wound to the gut; another walks down a midnight street towards a dead-end life of tawdry strip clubs and slot machines; and a woman stands in the center of a rock concert, stock still and traumatized as young teens rave around her.
Yes, it's film noir, all right, and despite the heavy-handedness of its approach
Lady Jane
makes for a decent addition to the genre. It all begins in straightforward fashion when seemingly mild-mannered, middle-aged Muriel Ariane Ascaride), the owner of a fashion shop in Marseilles, receives a message from her son Martin's cell phone: the image of Martin held at gunpoint by an unseen kidnapper. Muriel enlists the help of her grizzled buddies François (
Jean-Pierre Darroussin
) and René (
Gérard Meylan
) to help pay the 200,000-euro ransom, but soon hints are dropped that not all is what it seems. For one thing, Muriel's left forearm sports a very noticeable "Lady Jane" tattoo, replete with an image of marijuana. Then there's the fact that Muriel hasn't been in touch with François and René for 15 years. And when the kidnapper taunts Muriel by texting her, "Why don't you rob a jewel store?" the trio's past misdeeds cast a shadow over their present predicament.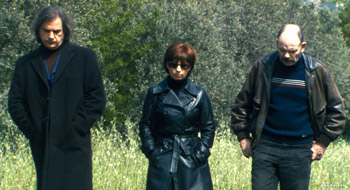 The kidnap plot is resolved soon enough, and its tragic outcome opens up further wounds. René, plump with dissolution and sleeping with a limber girl half his age, is a hard-boiled cynic wanting nothing to do with his criminal past even as he beats up local grifters who misuse his slot machines. François, still besotted with Muriel even though he has a respectable wife and two girls, isn't above ripping off local drug runners or deep-sixing a few hoods to help Muriel out of her jam. When Muriel and François visit an old "godfather" in the neighborhood and we see a poster of
Angels with Dirty Faces
on the wall, we know the inevitable outcome will be as happy as a bullet to the gut.
This is my first exposure to the director Robert Guédiguian, who is probably best known for his films
The Last Mitterrand
and
Beneath
the
Rooftops of Paris
. All three principal actors have appeared in most of his films, and Guédiguian's "stock company" serves him well here. Meylan is particularly good as the world-weary hustler -- one pictures a downtrodden Gérard Depardieu. Filming in matter-of-fact style, Guédiguian invests Marseilles with seedy elegance, and the movie's two central murder scenes are jarring in their real-time suddeness.
The film tries to give a humanist spin to the shenanigans as it concludes with the trio tracking down Martin's kidnapper. Even though Muriel turns out to be no Lady Jane, or even a lady, the climax opts for fatalism over catharsis. It all fits together neatly, perhaps a bit too neatly.
Lady Jane
wants to recapture the spirit of classic French noir films like
Bob le Flambeur
and
Elevator to the Gallows
, in which plot is driven (and even usurped) by character motivation, but when the curtains part and all is revealed, precious little sticks with you besides the magnificent ruin of Meylan's face. Favoring plot twists over fully fleshed-out characters,
Lady Jane
is a fun, nasty little movie with a feel-bad finish; just don't approach it as something as soul-searching as its epitaph suggests it is.