Trifecta: Sergio Leone, Raymond Chandler, Audrey Hepburn (Part 2)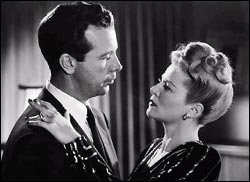 "What are you doing back here?"
"I'm a homing pigeon. I come back to this stinking coop, no matter how late it is."
"Murder, My Sweet"
It's usually unsaid, but the specter of Humphrey Bogart looms large over our public perceptions of Philip Marlowe, private investigator, hard-bitten cynic, hopeless romantic. Thanks to Howard Hawks' "Big Sleep" and Bogart's persona, we have a monolithic vision of Raymond Chandler's detective hero: calm and cocky in any situation, tough enough to disarm the bad guys with a quip and a nasty left hook, amorous enough to trade sexual double entendres or Proust references with Lauren Bacall, adroit enough to dodge a femme fatale's double-cross with a witty rejoinder. "Is he cuter than you?" a would-be seductress purrs at Bogart. His response, delivered deader than deadpan: "Nobody is." Indeed.
But we would do well to remind ourselves -- as this low-key gem from director Edward Dmytryk does -- that Chandler's Marlowe is far from the confident, strutting dream of a private eye that Bogart essayed. In truth, Chandler's Marlowe was a bit of a sad sack, existing from one low-paying job to the next, getting threatened, shaken down by the cops, and beat up on a regular basis. Yet through some cockeyed devotion to truth, justice, and an honest day's living, he would insist on continuing to "hit between end and tackle." Reading Chandler's Marlowe novels today, it's remarkable to see the contrast between Marlowe's dogged search for the truth and the futility of the enterprise -- often the perpetrators are caught, but crime is never prevented, and Marlowe is left a few bucks richer, and a whole lot more pessimistic about the human condition.
Only three films have captured that essential spirit of Marlowe's world. Roman Polanski's "Chinatown" grafts the Marlowe character onto Jack Nicholson's Jake Gittes, and in a cruel twist makes him complicit in the crime he is determined to solve. Robert Altman's "The Long Goodbye" also perpetrates violence on Marlowe by placing him smack dab in the middle of vacuous 1970 LA, where any notion of justice or truth is laughed at in a sunny, drugged-out haze. "Murder, My Sweet" takes a softer approach, fully playing into the genre conventions that dominated crime dramas of the 40s, but not shying away from the essential darkness and unresolvability that embody Chandler.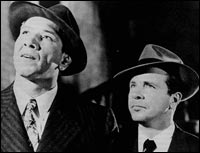 Based loosely on Chandler's "Farewell, My Lovely" (the title was changed for American audiences, presumably to gain the hard-boiled edge common to films of that era, but when one considers that the "lovely" woman of the title is anything but, the film also loses some ironic bite in the title change), the plot is standard labyrinthine Chandler: conniving young wives, snarling cops who may or may not be on the take, comspiracies involving stolen jewelry and drug pushers and blackmail. Trundling through the center of it all is Marlowe, sniffing in all the wrong places, a pain in the neck to everyone, including himself. With memories of Bogart fresh in our heads, Dick Powell's interpretation of Marlowe can be a bit startling. He snaps the requisite one-liners with flair, but there is a softness about him, a faint aura of ridiculousness, that neatly dovetails with Chandler's Marlowe. The guy is no pushover, but he's no superman. Whether getting suckered into a job for a few extra bucks, getting shot up with enough drugs to fly a kite (the "smoke like a web woven by a thousand spiders" sequence where Marlowe fights against his own narcotic haze is a gripping, surreal highlight), playing Mr. Uncooperative with the local coppers, tsk-tsking and arching his eyebrows at the venality of evildoers, or even nearly getting blinded by a close-range gunshot, Powell's Marlowe exists on the small scale, a portrait of the average smart guy thrown into un-average situations, undeniably human.
Likewise, the supporting actors are not so much archetypes as they are twists on standard genre types. Instead of incorporating Marlowe's love interest from the novel, Anne Riordon, the filmmakers have opted to have Marlowe fall for Anne Grayle (played perky and anxious by Anne Shirley), the stepdaughter of the murderous Helen Grayle. With her unusual looks (Marlowe even comments on her crooked nose at one point) and reluctant smiles, Shirley makes for a change from the typical milquetoast "good girl." Claire Trevor dominates her screen time as wicked stepmother Helen, her alarming fleshiness and indolent sexuality putting a fresh spin on the usual slinky femme fatale, although like Shirley, her character tends to be shortchanged in the proceedings. Faring better are the other minor characters: Mike Mazurski is fittingly hulking and befuddled as the tragically lovelorn Moose Malloy, and Otto Kruger plays the unctuous Jules Anthor, drug pusher to millionaires, with maximum disdain.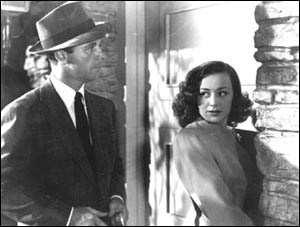 Dmytryk seems either incapable or unwilling to build up to the same rollicking pace that Hawks employed for the "The Big Sleep." Here, the story moves in fits and starts, heading down seeming dead ends, jumping back and connecting plot points, loping along with the same unhurried yet unstoppable rhythm of its protagonist. Along with the aforementioned drug haze sequence, there are expressionistic shadows, ominous overhead shots, jarring close-ups, and even point-of-view depictions of unconsciousness ("A black pool opened up before me. I dived right in"). True to Chandler, the film embraces a fatalistic world view in which bad things happen, even in spite of our hero's machinations. Witness the conclusion, in which Marlowe thinks he has everything wrapped up in a tight little package, only to watch it unravel into two murders within seconds of each other. As a sop to the happy ending crowd, we get a touching, comedic denouement with Marlowe and Ann Grayle literally thrown into each others' arms for a closing clinch, but what lingers is the acrid smell of gunsmoke, that comforting but deadly black pool. It doesn't qualify as "fun" in the same sense that the confident "Big Sleep" does, but "Murder, My Sweet" is a potent reminder of the darkness at the heart of Chandler, a sucker punch with a sweet, sad face.
[Next installment: "How to Steal a Million."]